Governors
Trinity Academy Halifax's Governors support our continued development and are passionate about helping the academy to provide an outstanding education to our young people.
The Governors for the Academy Local Governing Body are appointed by the Trust Chief Executive Officer under delegated authority of the Board of Directors, as set out in the Trust's Scheme of Delegated Authority.
I have over 30 years' experience in higher education, including as Principal and Chief Executive of the University of St Mark and St John ('Marjon'), Plymouth and as Deputy Chair of the UK's Joint Information Systems Committee (JISC). I have significant experience of working at CEO level with universities and colleges. In recent years, I have worked with several Higher Education Institutions as their lead consultant on gaining taught degree awarding powers, including Regent's University London, the British School of Osteopathy and the Anglo-European University College, Bournemouth. I am also Chair of the Corporate Board at The Institute of Contemporary Music Performance and the Chair of the Audit and Risk Committee for Istituto Marangoni London. Outside of education, I am also a professional musician with a first-class degree from Cambridge and a master's qualification in music. I have performed – and still perform - both in the UK and abroad and have published and edited widely within his field. I am an accredited tutor with the RCO Academy, the premier body for tuition for the pipe organ. I have also published a number of books, both fact and fiction.
Professor David Baker
Chair of Governors
Previously a local councillor for four years, I have also been a governor for the Trinity MAT for 11 years now and have enjoyed being involved both at Trinity Sixth Form Academy and Trinity Academy Halifax. I am passionate about education and how it can empower our young people to aim high and make their aspirations become reality. A Metallurgist by trade, I have been fortunate to have travelled the world with work and this has helped me to have a broad outlook of other countries and how by embracing education this can break the cycle of deprivation and create better outcomes for the future.
Andrew Tagg
Trinity Academy Halifax has a simple vision, Every Individual: Every Opportunity. This stems from the academy's relentless focus on helping every student meet their potential both academically and in character driven learning. We constantly strive to develop a love of learning, resilience, curiosity, kindness and ambition in all our students. Since the academy opened in 2010 the students and staff have risen to this challenge and today Trinity Academy Halifax is one of the most successful comprehensive schools in the country. This success has been recognised with an outstanding judgement from Ofsted and the World Class Schools Quality Mark. These accomplishments are underpinned by outstanding quality teaching, meaningful pastoral care and a rich curriculum offer that creates an environment where students can thrive and achieve outstanding outcomes at Year 11 regardless of their starting points. However, this is just one facet of what it means to be a Trinity Halifax student. Every day the academy is filled with students participating in vibrant music, arts and drama. Sporting opportunities range from the Netball and Rugby Academies to taekwondo and yoga. There is an extensive range of extra-curricular clubs; musical productions and showcases; careers support; charity events; leadership opportunities; educational visits and residential trips – all of which help to develop the whole child into a thriving adult.
Sarah Case
I have worked in academic publishing for more than 30 years, with Bradford-based Emerald Publishing, and more recently with one of the global big-five: Routledge, Taylor & Francis. I have been a Trinity governor since March 2019 and thoroughly enjoy working with such a dedicated team of professionals. I am the academy's link governor to both Careers and SIAMS, and am hugely impressed by the range of opportunities and experiences our students are given. I am passionate about education and proud to support such a forward-thinking organisation.
Eileen Breen
Emma Hanlon
It is a real privilege to be appointed as a Governor at Trinity Academy Halifax as I have worked in education for 20+ years and have a wealth of expertise to bring to the role of Governor. I have taught in secondary education since 2002 in the specialism of Design and Technology and have carried our roles such as Head of Year and Curriculum Leader for Design and Performance. I have now been in an ITT role for 6 years and thoroughly enjoy working with trainee teachers and supporting with recruitment and retention of staff across our MAT schools. I am a positive person who has a real passion for the pastoral side of schools and ensure that I bring this into my governor role. I am proud to have worked for Trinity MAT for many years and to continue to work closely with my colleagues at TAH.
Sue Marsh
I currently work in financial services with over 20 years' experience in senior management and executive roles. I've a degree in Business & Management from the University of Bradford, completed my MBA in 2013 and I'm also a Chartered Insurer. I'm also on the Board of an insurance research company. Being born and bred in North Halifax, I am passionate about Trinity Halifax offering the best education to the local communities that it serves. Working for one of the main employers in Calderdale, it's a great privilege to be link governor for careers and curriculum, being able to join the world of work with the excellent students coming out of Trinity Halifax and ensure our provision is always relevant, dynamic and providing the best opportunity for our students.
Stephen Long
I am an English and Media Studies teacher and have been a Trinity governor since 2022. Tutored by Antony Easthope, at Manchester Metropolitan University, I have taught Film and Fashion Journalism at Calderdale, Southampton and Nottingham Trent. I trained at Chester College and was influenced by the work of Sir Alec Clegg, Director of Education, West Yorkshire. I thoroughly enjoy being involved in Trinity's journey and hope that my skills and experience will continue to help and support such a dedicated team of professionals.
Jayne Sheridan
Education today should be about inclusion. I have been involved in education for over 20 years and worked within Europe and led projects in the Middle East. It is vital for this 'digital generation' to develop, to continually rethink curricula and adapt classroom methodology to enable them to prepare for lifelong learning. I look forward to utilising my experience and expertise to support Trinity in my role on the governing board.
Ivan Kuzio
I have worked for Hays Education for the last 20 years and have recruited into a range of teaching and non-teaching roles during that time. I enjoy working with schools and teachers and finding the right job for the right candidate is very rewarding. I became a school Governor as, in my view, a strong governing body can really support a school and be part of the journey that makes that school outstanding. I also felt that as I live in the local area, it would be a good opportunity to work with a school that serves the community and the children in it. I am really enjoying my role and working alongside the fantastic team at Trinity Academy Halifax. The work that the school does for their students and families really is exceptional.
Michelle Audis
It's a privilege to be a governor at TAH; I am a Senior Officer at Calderdale Council, with experience of Health & Safety in schools and more recently in Capital Projects. I gave both professional and personal links to TAH , working with staff in my roles at CMBC and also as a previous parent of 2 boys who both attended TAH and the 6th Form College. This has given me a unique insight into the school and what has always struck me is the passion and commitment all of the staff have in helping the students realise their full potential. I hope as a governor I can assist the team and parents in ensuring the school continues to grow and develop for all its pupils, staff and local community.
Janet Whitlow
It is a great honour to be newly appointed as a Governor at Trinity Academy Halifax and is a role I have long aspired to fulfil in order to share my expertise in education and to help ensure students are given the very best educational opportunities possible. I have been a teacher for over twenty-five years, the last twelve of which have been spent working within the English curriculum areas across the MAT. I currently work at Trinity Sixth Form Academy as Vice Principal for Teaching and Learning and am proud to work for a Multi Academy Trust which places student learning and progression at the heart of the decision-making progress in order to create truly transformational learning environments for young people. I was born and raised in Halifax, which means I have witnessed the many challenges and changes in education within the North Halifax area and understand how important it is to provide a secure, safe and aspirational institution for young people so that they can progress equitably into their next chosen steps.
Miranda Saville
Scheme of Delegated Authority (SoDA)
Trust Governance Structure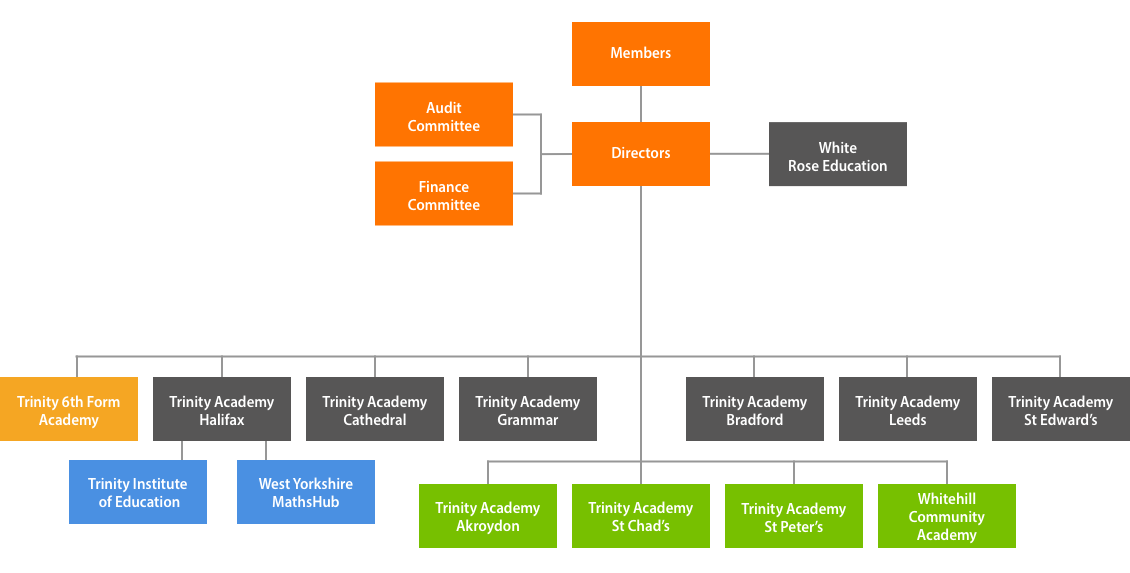 | | |
| --- | --- |
| Body | Chair |
| Board of Directors | Mr Tom Miskell |
| Chair of Members | Mr Tom Miskell |
| Finance Committee | Mr Andrew Heley |
| Audit Committee | Ms Elaine Beaumont |
| White Rose Education | Mr Mike Kneafsey |
| Trinity Academy Halifax LGB | Mr David Baker |
| Trinity Academy Akroydon LGB | Mrs Jackie Tagg |
| Trinity Academy Cathedral LGB | Mr John Hanson |
| Trinity Academy Grammar LGB | Ms Georgie Scully |
| Trinity Academy St Chad's LGB | Ms Jag Oates |
| Trinity Sixth Form Academy LGB | Mr Andrew Tagg |
| Trinity Academy St Peter's LGB | Ms Sue Sutton |
| Trinity Academy Bradford IEB | Mr David Baker |
| Trinity Academy Leeds LGB | Mr Tim White |
| Trinity Academy St Edward's LGB | Mr Nigel Leeder |
Chair of Governors
Professor David Baker
Trinity Academy Halifax
Shay Lane
Halifax
HX2 9TZ
Interested in Becoming a Governor?
We are looking to recruit a number of governors to support our school.
The role of a governor can be very rewarding, and volunteering within our schools will provide you with the opportunity to make a valuable contribution to your local community and the future of our young people.
Governors will sit on our Local Governing Body and work with the senior leadership team to ensure students are receiving the best education possible and that all resources are being used effectively to support this ambition. A strong governing body is made up of a group of people who will contribute various skills and experience, and who will commit to working together for the benefit of the trust and the local communities in which we work.
Being a governor requires individuals to learn about schools and ways of working, and it is also about individuals bringing their skills and experience to contribute to an existing skillset. It is important that every governing body is made up of a group of people who have an understanding of their role and responsibilities, who are committed to gaining knowledge about the school and who will ask challenging questions to scrutinise leadership and decisions made within school. Governing bodies have key strategic responsibilities and these need to be explored within every meeting, without getting involved in the day to day operational activity within the school.
Governors play an important part in every school and we invite you to learn more about Trinity Multi-Academy Trust, our schools and the opportunity to really make a difference to the lives of our young people.
If you are interested in discussing our governor vacancies further, please complete the Expression of Interest form below and return to the email address given on the form. We will then get in touch to arrange a further conversation.